Over the past few months we've reviewed 5 different online drawing platforms to determine which one would be best for us to begin using. Read more about all that here. Currently, we've been using locally installed PowerPoint as an alternative to Visio, to build up our repository of Azure Architecture and Concept diagrams for use with clients and for teaching presentations. Access those PPT drawings here.
We've decided to do all our Azure drawings with diagrams.net (formerly draw.io is now being moving to the new .net domain). In fact, over the next week or so, all of our Azure Architecture and Concept drawings will be converted over to the diagrams.net/draw.io platform. Read how that conversion happens, here.All our new Azure Architectural diagrams will be drawn in diagrams.net going forward.
These are the reasons, why we chose diagrams.net over the other 5 drawing platforms we tested/reviewed. Read our basic test review about draw.io.
Diagrams.net is a full-featured online drawing platform for Azure Architectural diagrams – and this is all available for FREE. Not the main reason we chose to switch to working with diagrams.net – but certainly a factor. There isn't anything in the pay-for-use platforms that we need above what diagrams.net provides. If we were working in a Team environment, that would be a reason to go to a pay-for-use, for real-time collaboration options. In the meantime, Google Drive sharing features work just fine for us! Diagrams.net makes working with Azure SVG icons simple and quick.
Flexible diagram saving options – to Google Drive, OneDrive, Dropbox, GitHub, GitLab and local devices

Our drawings and data remain under our own save decisions
Global option to auto-save or not
Possible to access the XML for an opened diagram and resave through that if anything fails

Import VSDX and SVG files – and those of several other online drawing platforms if necessary

Also from all the saving option plus URL

Can easily create Custom Libraries of icons, shapes, objects for re-use and quick find later

The Scratchpad (temporary gathering of commonly used icons, shapes, objects) is able to be edited and saved
Search feature for finding icons works well if the name of the file is known – otherwise, the visual search of icon thumbnails works
Most current Azure Icon Set (Sept 2019) is fully loaded as a 'batch category' for easy visual selection, as well as by Category
Managing libraries is easy
Libraries can be saved and then loaded from Google Drive, OneDrive, Dropbox, GitHub, Browsers, Device or URL

There's an offline version for working with drawing UI with resynch options when back online

The external changes will be automatically detected and merged into the current file if saving to Google Drive and OneDrive, unless auto-save turned off
Auto-save is really a backup

Simple and intuitive workspace

Can create multiple pages per file
Can easily set the page size for a file
Clean 'uncluttered' workspace – with a few theme options

Revision History is kept for each online file – allowing editing, restoring to a different version, or downloading to storage of choice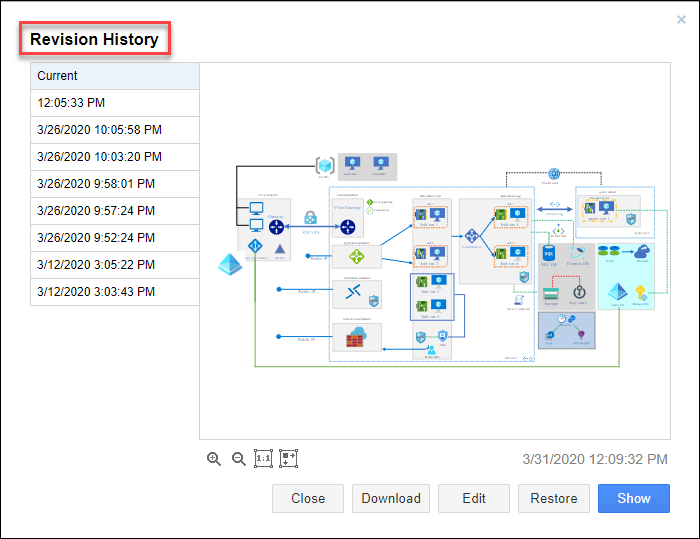 Collaboration is done via Google Drive