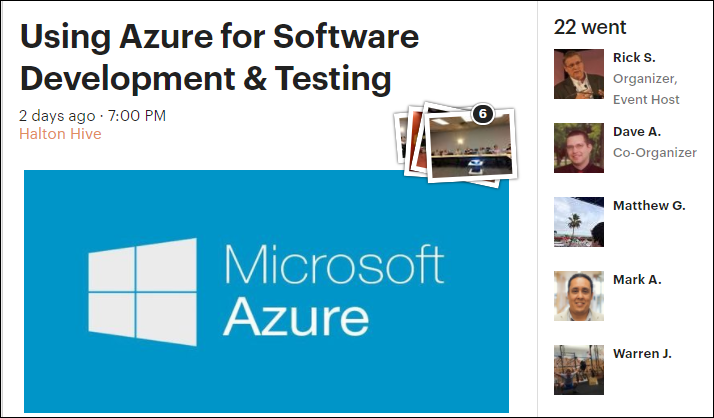 During this talk, we discussed how you can easily provision and manage a Dev-Test environment with MS Azure, move existing environments into the cloud for testing with relative ease, less complexity and comparatively small cost. All of this will help you meet the needs of your teams faster and manage Dev-Test environments with more visibility and control. Some of the topics covered:
• An introduction to the cloud using Microsoft Azure functionality
• How Azure can accelerate traditional software development and testing
• Azure Infrastructure as a Service (IaaS) vs Platform as a Service (PaaS)
• How to quickly provision development and test environments with Azure Dev-Test Labs
• Minimize resource usage and costs with quotas and policies
• Set automated start-ups/shutdowns to minimize costs
• Create Windows and Linux environments with pre-built fully patched VM image templates
Further User Comments on MeetUp page:
Thanks for coming out for my talk on 'Using Azure for Software Development & Testing'. Here are the links you should check-out for more information:
1) Azure DevTest Labs:
https://azure.microsoft.com/en-ca/services/devtest-lab/
2) What is Azure DevTest Labs
https://channel9.msdn.com/Blogs/Azure/What-is-Azure-DevTest-Labs
3) What's new in Azure DevTest Labs:
https://channel9.msdn.com/events/Connect/2016/122
4) Deliver more features faster with a modern
development and test solution:
https://channel9.msdn.com/events/Ignite/2016/BRK2103
Here is my slide deck:
https://speakerdeck.com/arlannugara/using-azure-for-software-development-and-testing-silicon-halton-p2p-ug
---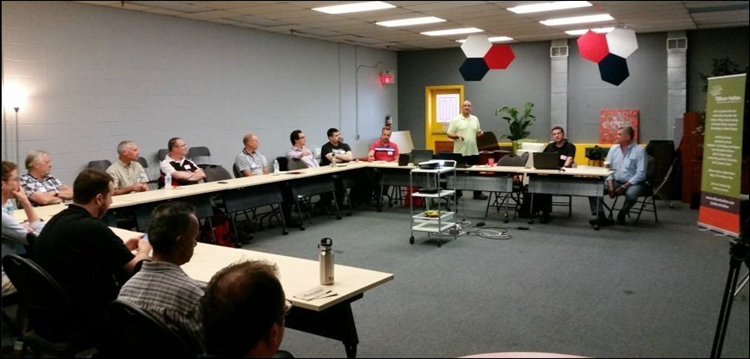 ---

For software developers who live and/or work in Halton Region to meet and discuss aspects of software development. Topics include various programming languages and platforms, software architecture and design, DevOps and infrastructure concepts, and career development. Launched in 2016.