Visual Paradigm Online is another online drawing platform in our series on reviewing various web apps as alternatives to Visio and PowerPoint, for creating Azure Architectural Diagrams. As in the other online drawing programs that we've been reviewing, Tim Warner's Azure IaaS drawing was used as the vehicle to test the ease of use, the pre-loaded current Azure Icon Set and other features noted here.
VP Online UI with completed drawing: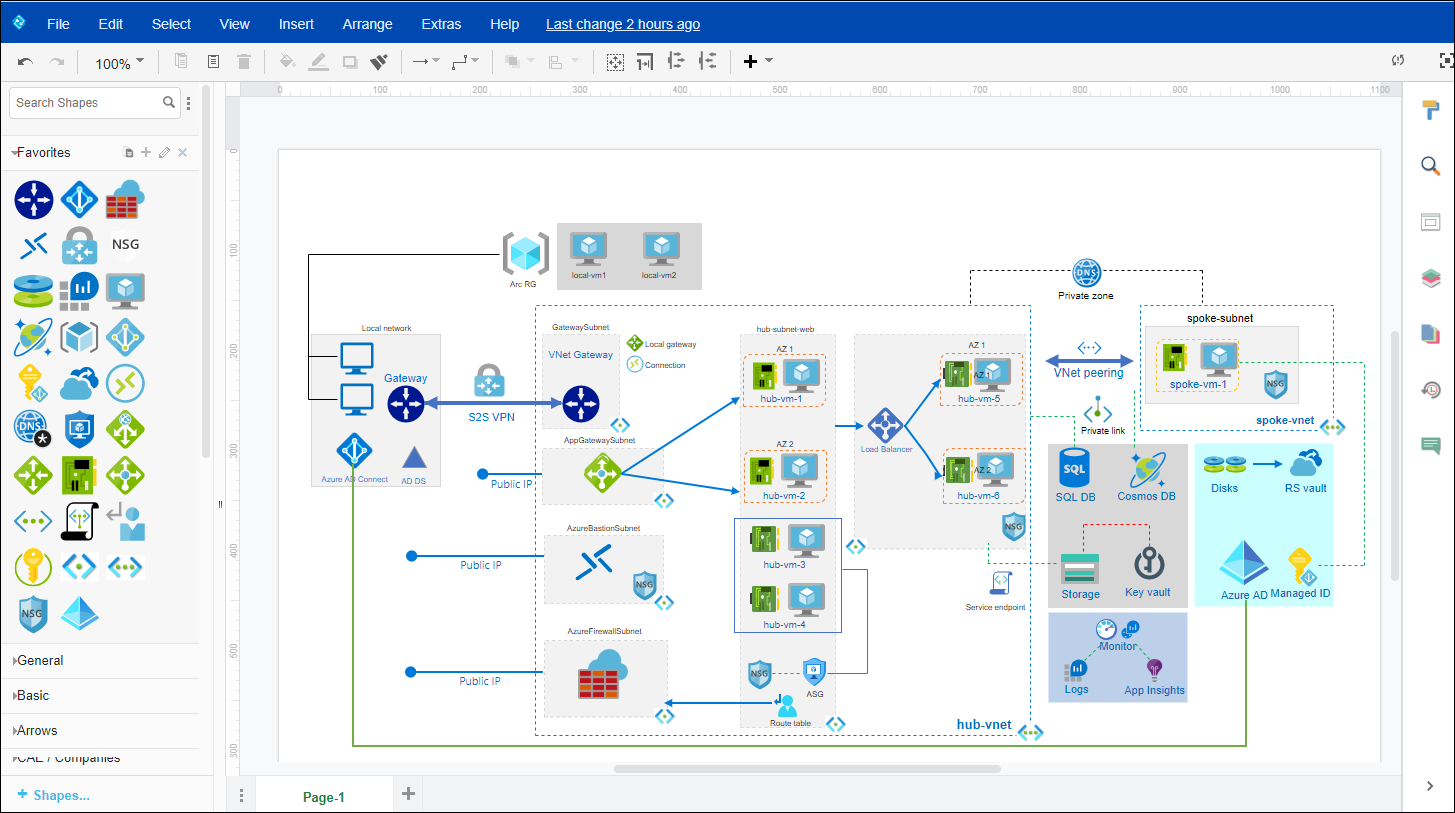 NOTE: Source of diagram: https://github.com/timothywarner/azure-class-diagrams
This is Tim Warner's Visio drawing re-done in VP Online. Replicating a detailed drawing like this helps to discover the platform's functionality, ease of use, as well as some of  the other review details outlined here.
Notes:
Testing and review was done using the free VP Online Express version. There are 2 pay-for-use higher versions with increasingly more features in each. Both are still excellent value for such an extensive diagram toolset and drawing options
The Express version has all but 2 of the full diagramming Toolset – only 'diagram legend' and versioning are not included.
Revision History with its options are not offered in the Free Express version – only in Advanced version.
I did find the UI responsiveness and redrawing to be slower than any of the other tested online platforms (my ISP connection speed is very fast, so that's not a variable in this factor).
Real-time collaboration is not offered in the Free Express version – although diagrams can be saved to Google Drive, which allows collaboration of saved files.
Comments are not activated in the Express (free) version, so that makes collaboration using only Google Drive functions, a bit 'blind'.
Review:
The VP Online UI looks SO MUCH like draw.io UI (soon to be diagrams.net) – but I found it was slower and less responsive than the draw.io UI. I don't know the relationship between the 2 programs – but the UI and all the options look almost identical! There are a few additional drawing features in VP Online UI that I like – Format Copier for one! Everything that was commented on with draw.io also applies to VP Online.
The top toolbars of the 2 programs (VP Online and draw.io) show the similarity and differences between them:

Pre-loaded Azure Icon Set:

Most of the most current Azure Icon Set (Sept 2019) were pre-loaded in Cloud and Enterprise categories – to add missing icons a new library must be created and then import the missing icons if you want to have the SVG icons 'pre-grouped' before using them in a diagram. The Search function works well to find icons if you know the name of the icon. All the Azure icons are loaded by Categories – I prefer to have a batch library open of the Azure icons to visually choose the icons I'll be needing in a new diagram – this was easy enough to do in VP Online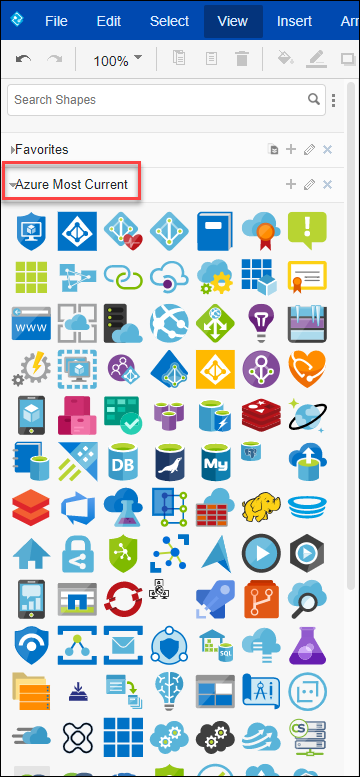 A 'Favourites' library is available to drag collected often used icons and formatted shapes to. It can be edited or also converted to a Library. This is a great way to save commonly used icons and objects – a real time-saver in my opinion.

Multiple Pages can be created for each diagram file.
Great Drawing UI – its uncluttered and has lots of keyboard shortcut strokes. I did miss having a zoom scroll bar – there is a keystroke to zoom in and out, but I like to have more control, and on specific points of a diagram.
Saving Files: Files can be saved to VP Online's cloud storage, Google Drive or locally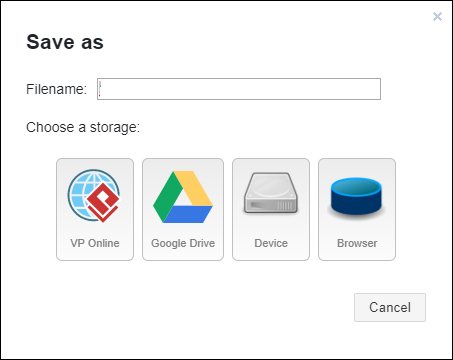 Import Options: Import documents from Visio (latest format, unlike another program reviewed), draw.io, and Gliffy

from within the program, import from Google Drive, Browser, locally.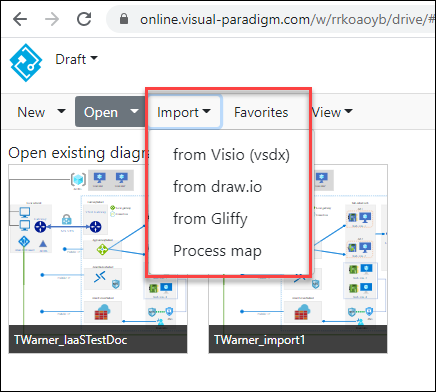 Using the Express version, a watermark is left on all of the image formats and the PDF (but there is no watermark on the cropped option for PDF). These could be scrubbed out in an image editor.