LucidChart is another online drawing platform in our series on reviewing various web apps as alternatives to Visio and PowerPoint, for creating Azure Architectural Diagrams. As in the other online drawing programs that we've been reviewing, Tim Warner's Azure IaaS drawing was used as the vehicle to test the ease of use, the pre-loaded current Azure Icon Set and other features noted here.
LucidChart UI with completed drawing: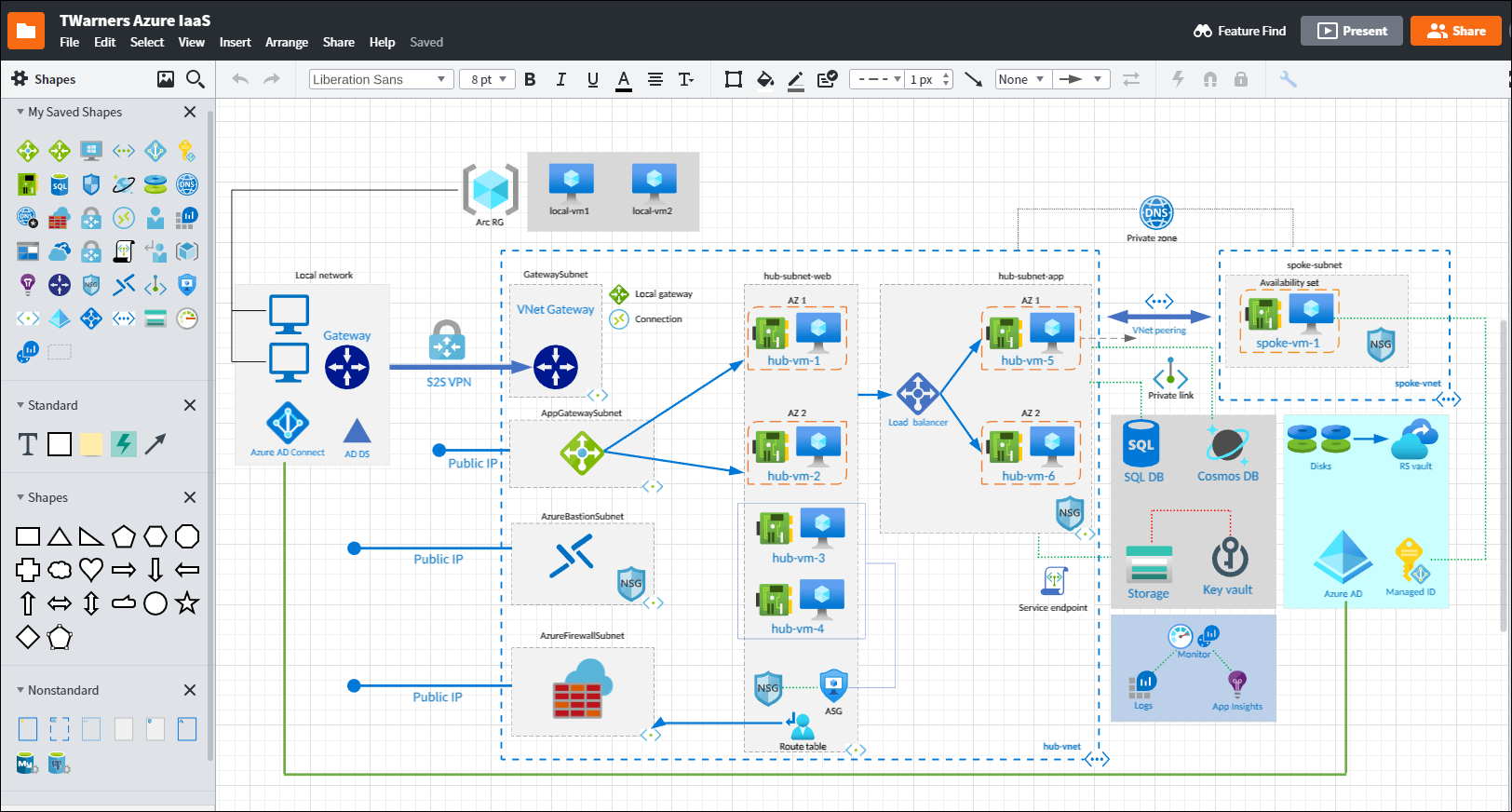 NOTE: Source of diagram: https://github.com/timothywarner/azure-class-diagrams
This is Tim Warner's Visio drawing done in LucidChart. Replicating a detailed drawing like this helps to discover the platform's functionality, ease of use, as well as the other review details outlined here.
Notes:
LucidChart offers a one-week free trial for the Single User account or a 2-week trial for the more expensive Team version.
The extensive list of the most recently released (2019) Azure Icon List is preloaded into LucidChart
Review – Fabulous Online Alternative to Visio!
LucidChart is a full-featured, simple to use, online drawing program, . It certainly does everything I need it to – with only a few 'wants', which may just be settings I didn't discover how to change or implement And it will do SO MUCH MORE than I will ever use for doing Azure/cloud architectural diagrams. Read the LucidChart product details to discover how much more!
As you can see from the pic above, I had no problems replicating Tim Warner's Azure IaaS diagram. For any missing Azure icons in LucidChart, I could use LucidChart search to see if the icon was in a different category. Or I could import the Azure SVG icon I needed (Read here for sources of Azure SVG Icons); put the found SVG icon(s) into an icon library or just use immediately.
All the drawing features I'm used to working with in PowerPoint, are present – along with many more drawing features. With the exception of a 'Format Painter' feature to quickly copy formatting of like objects, (which may still be possible, I just didn't find it) and being able to nudge movement of an object using keyboard directional arrows, it was drawing as usual. The nudging might be possible if I took the time to make the grid size smaller, since the keyboard movement is a snap-to-grid that I couldn't find how to toggle off. I could however, disable snap-to-grid and snap-to-guide for objects, which is not possible in PowerPoint.
There was no steep struggling learning curve – LucidChart is a delight to work with. Having the majority of the Azure Icons at hand is a real time-saver from working with the slides of icons I work with in PowerPoint! Any new UI takes a few moments to get familiar as to where tools, formatting and fine tuning settings are. I kept discovering new features as I went through the drawing process!
Big bonus – LucidChart will import a Visio diagram (.vdx, .vsd.,.vsdx,.vsdm) – without any loss of detail or distortions (as can happen when copying and pasting those pesky connections). After spending an hour creating a library of collected icons and building the diagram I was copying – I discovered the Import Visio function. I imported Tim Warner's azure-iaas-ref-arch.vsdx file. Wow – I copied and pasted that into Page2 on the document I was already working on. With a few minor changes, I had a completed LucidDraw replica of the original Visio file in minutes.
The colloboration features are enterprise level – and easy to implement. I am working with the Team trial so perhaps there are more collaboration features available than on the Single User version of LucidChart.
The diagrams can be exported as PDF, PNG, JPG, SVG with background variations. Every exported file format had no distortions or missing elements in the final document. Impressive!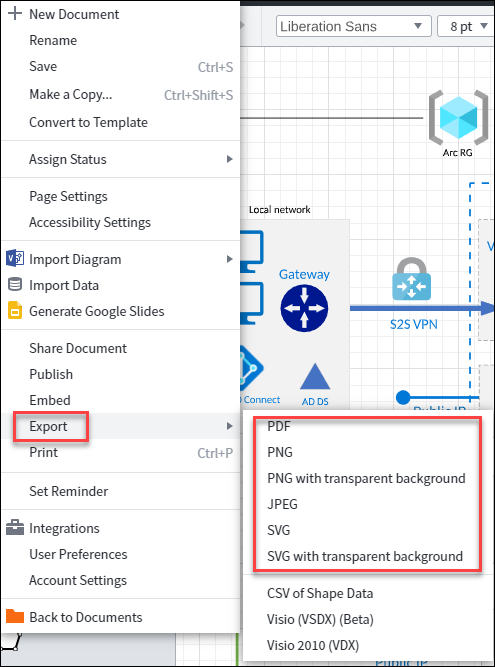 Take a look at the various generated formats:
Review Notes:
It is simple to import missing SVG or PNG Azure icons and add to any Saved Library

Can create multiple saved Libraries of icons and pre-formatted shapes
Easy to edit a saved library
Can delete unused icon libraries from work page – easy to add again

Has a large drawing area with 9 preset sizes and custom sizing – portrait and landscape
Can set defaults
Multiple pages can be opened per drawing document
Layering of page contents possible
Snap to Grid and Snap to Guides toggle off and on
Adjustable grid sizing
Extensive formatting options for shapes, fills, line types, arrows etc.

has a colour picker tool for colours
can choose RGB/Hex colours
has a transparent fill option

Has constraint option on resizing icons/shapes – shift key so proportions stay consistent
Many Hot Key shortcuts for drawing efficiency
Directional keys move item a whole block – its easier to use mouse for fine movement units
Like the preview of final effects when changing line width, colour etc
Export file formats all turned out well – PDF, PNG, JPG, SVG
I imported the original Visio diagram of Tim Warner's into LucidChart – looks great, all the connectors are consistent, looks exactly same as a PNG image of the original!

This is a VERY powerful and useful feature

Connectors take some getting used to – but work well – either to a point or only 'towards' a point.
3 GB Storage included in basic Team monthly subscription

I cancelled the Team version account and was switched to a free account – which has only 25MB storage
Other than the online storage option of a diagram, it looks like all the draw features I need are still functioning!