Overview:
CloudSkew is a new free online Cloud architecture drawing platform, that is still in pre-lease status:

The  current and planned Features List outlines what to expect in features. Diagrams are auto-saved in CloudSkew cloud storage.  Its all a good start. This will be the only online platform that focuses just on being a drawing platform for Cloud Architecture and Concepts.
I created a simple Azure concept diagram and discovered a number of 'still to be added' needs before I could draw a more complex Azure architecture diagram, such as Tim Warner's IaaS class diagram. (see 2nd drawing below)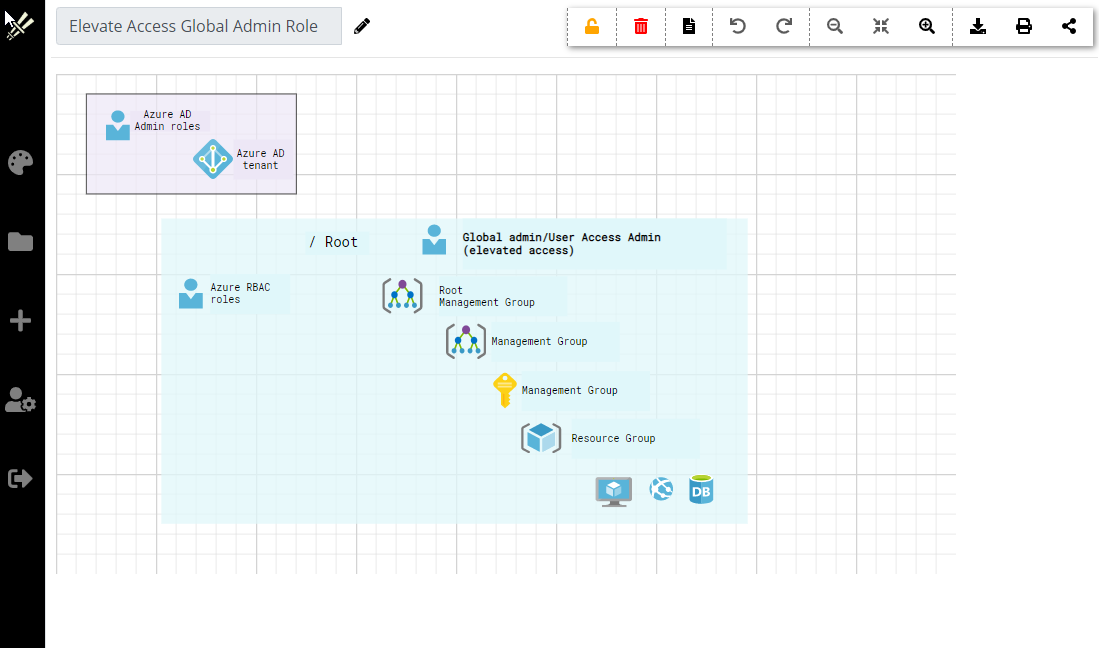 This is what I'd like to be able to re-create in CloudSkew – Tim Warner's diagram or similar complexity: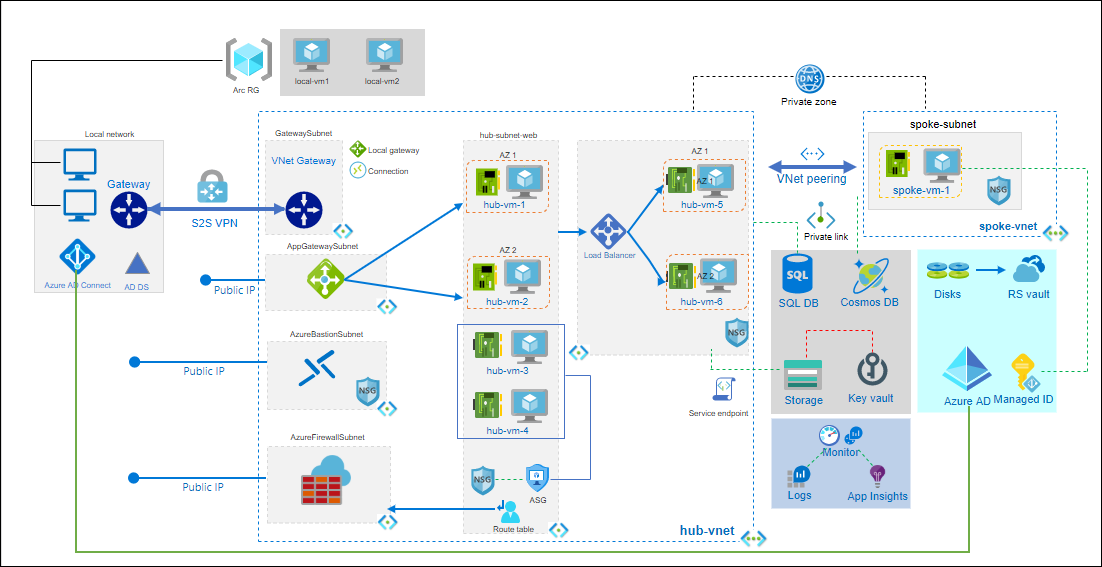 While reviewing other online diagramming platforms as alternatives to using locally installed Visio or PowerPoint 2016 + for creating our Azure Architecture and concept diagrams, we came up with a list of 'must-have's for switching to a new online drawing platform. Here are a few of them and how CloudSkew deals with them:
Current Azure Icon Set (Sept 2019 as of this writing) must be pre-loaded, either by category or even better, as a batch list, without categories. (This makes visually finding an icon faster for me).

The current set of Azure Icons are all loaded in categories in CloudSkew.
This is a great start and a time-saver coming from our PowerPoint diagramming mode!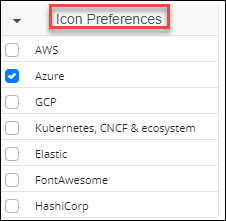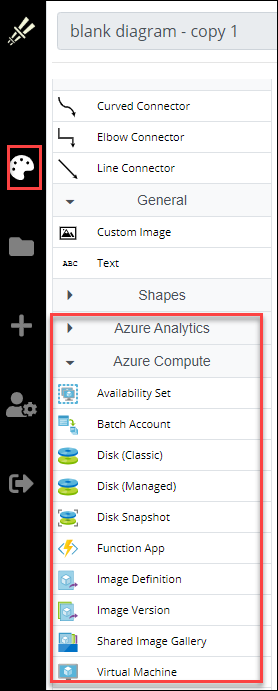 The Search function works well if you know the name of the icons that are going to be used in the diagram
Having the icons load onto the workspace with a single-click is faster than having to drag them – Kudos for that feature!

A customizable symbol container for dragging in most commonly used icons, formatted shapes and objects. This 'favourites' symbol container (think Visio stencils?) can be saved for use over multiple sessions, or at least be able to be re-loaded and or edited with a new drawing

The ability to create a custom library of symbols, shapes etc.
Not yet available in CloudSkew

Easily import SVG or PNG format of any missing icons or shapes

CloudSkew only imports PNG or JPG image files. For many drawings, a transparent background is needed for most icons if there are any shaded bounding boxes used with icons inside.
In CloudSkew, the imported PNGs do NOT import with their original transparent background.
SVG file format allow resizing of symbols or shapes without losing image quality. Plus, Microsoft is not providing PNG format of icons going forward – the latest Azure Icon Set is in SVG format only
Ideally, we want a program that imports SVG and Visio files

Easily resize Icons with constraint feature (using a keystroke combo?)

Resizing icons in CloudSkew is very difficult right now without having to spend time trying to fix the distorted proportions. Even then, to make the icons small enough to work on a complex diagram, then the move handle is gone, so the resized icon is 'stuck'.

A resizable workspace/page – being able to have multiple pages open within a diagram is even more helpful.

This is a glaring problem with the ClouSkew pre-release version – but the FAQs say it may only be provided as a future premium option.
It may be possible, but I couldn't figure out how to setup a complex diagram like Tim Warner's IaaS class diagram in such a restricted work space. Most times I'm working with at least an 8.5″ x 11″ landscape sized workspace.
After gathering all the icons to be used in recreating Tim Warner's diagram, there is no workspace left. Being able to collect these even on the outer margins of the work space might be another way? Or, collect icons after getting 'infrastructure' layouts done?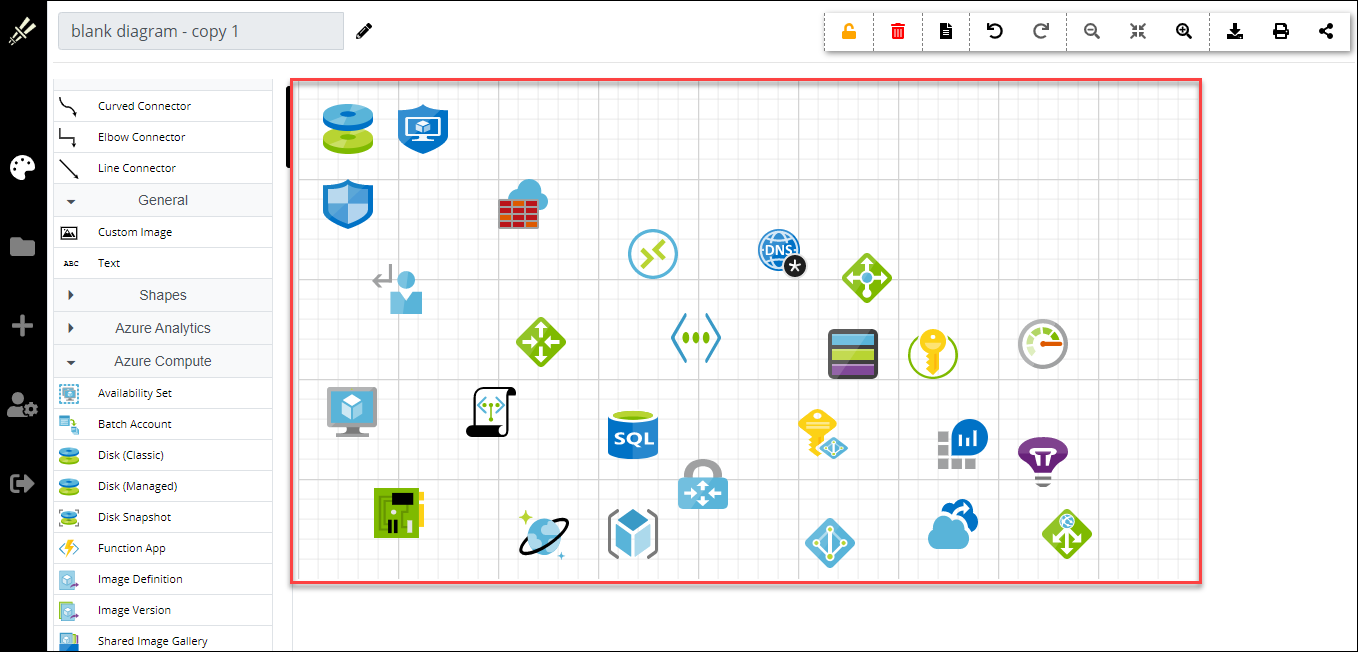 Conclusion:
This is a pre-release version of CloudSkew – not the finished release version yet.
There are 2 extremely good online drawing platforms available now to create Azure (and other cloud offerings) Architectural diagrams – draw.io and LucidChart. One of those is also free (draw.io – soon to be renamed/reported as diagrams.net).
In my opinion, CloudSkew is off to a good start but still has some development work to do yet for it to be on the list with what's out there already in online drawing platforms.