Cacoo.com offers another online drawing platform that promotes itself as ready for collaborative use for creating Azure architectural drawings. As in the other online drawing programs that we've been reviewing, Tim Warner's Azure IaaS drawing was used as the vehicle to test the ease of use, the pre-loaded current Azure Icon Set and other features noted here.
Cacoo.com UI with completed drawing: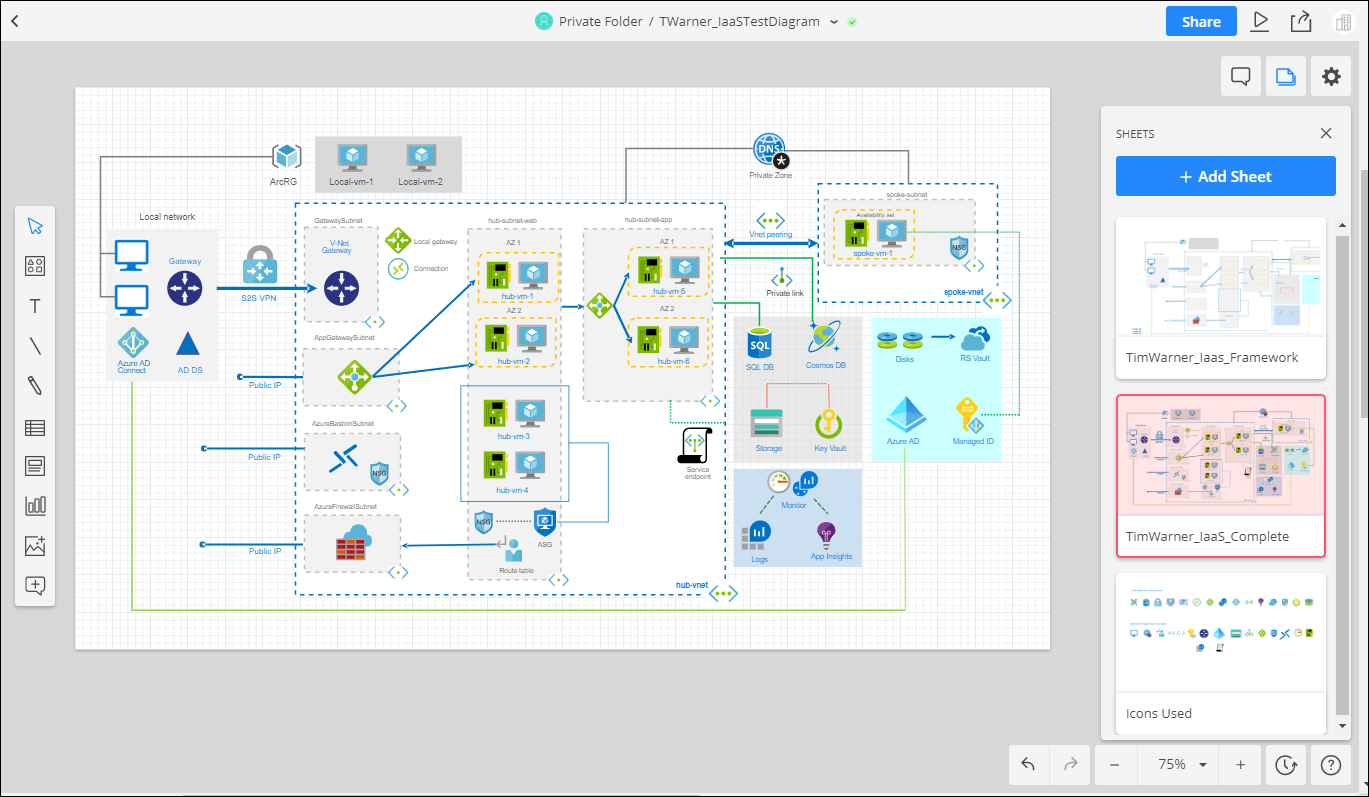 NOTE: Source of diagram: https://github.com/timothywarner/azure-class-diagrams
This is Tim Warner's Visio drawing done in Cacoo online. Replicating a detailed drawing like this helps to discover the platform's functionality, ease of use, as well as the other review details outlined here.
Notes;
Started testing with a 2-week Team trial version with no credit card required
Single user $6USD/month and there is the collaborative Team version also
The latest Azure Icon Set (Sept 2019) is NOT fully pre-loaded into Cacoo. There are only 13 of the 22 Icon Categories included in the Sept 2019 Azure Icon Set, and most of those 13 are only partially populated with the most current Azure icons. I was still able to figure out a way to collect the missing Azure icons into my diagram.
Review: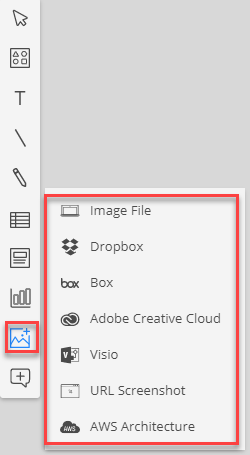 Image files (JPG, PNG, SVG)
Being able to import Azure Architecture would be a PLUS – but it doesn't!
Cacoo promotes itself as a viable alternative for companies to using Visio, stating that it will open current Visio files. It won't – it will only import Visio .vds and .vsd formats (Visio 2003-2010) Muli- not the latest .vsdx files. This warning popped up when I attempted to import Tim Warner's azure-iaas-ref-arch.vsdx file:

Pre-loaded Most Current Azure Icon Set

I was disappointed to see so few of the current Azure Icon Set pre-loaded making it obvious to use for Azure Architectural diagrams. Lets say Cacoo CAN be used for Azure Architecture diagrams, but it certainly isn't setup for doing this easily and quickly, at least from the perspective of icon gathering. (There IS a good search feature for finding pre-loaded icons by name, but it is easier to scroll through the icon categories to visually find which icons are actually pre-loaded!)
Also, there is no temporary Shapes folder option to collect all the icons needed for the drawing – or to have saved for later similar drawings.

There is still a way to do this manually in Cacoo though.
Keep on reading to find out how I did get the icons needed for doing the 'review drawing'.

Multiple Pages per Drawing – collecting Icons!

Cacoo does allow multiple 'pages' or sheets per diagram file. This is a plus, because I used this concept to load the 32 different Azure icons needed for Tim Warner's diagram. I added an icon sheet! These I could copy and paste into my full diagram as needed.
Only 15 of the 32 icons needed were pre-loaded. I had to import the icons 1 by 1 as I'll explain
Batch import stacked the imported SVG files on top of each other in the top left corner of the UI. Many of the SVG icons came in as separate vector pieces, that needed to be grouped into one movable file! So, unsorting a stack of batch imported SVG files without splitting up individual icons, was impossible!
I had to import each icon individually (a lot of key strokes!) and then Group before moving the icon over to import the next missing icon.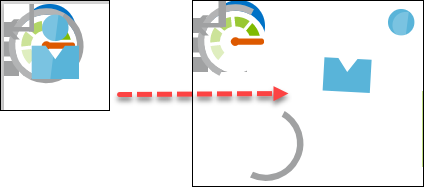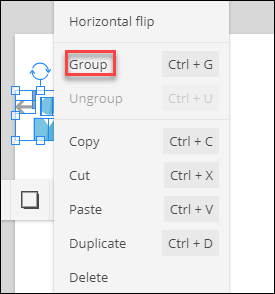 Copy/paste of PNG from PPT also worked effectively – but the transparent background is lost. This is occasionally the desired effect – as in using the VNET and Subnet symbols in a diagram. I don't want them transparent!

Revision History feature is great – and there's both auto-save and manual save. This would be helpful too with collaboration, and multiple people working on the same diagram.
Great drawing UI – uncluttered UI. Formatting options visible only with an object selection.

Constraints offered to maintain proportions of object while resizing
Found creating the drawing quick and intuitive, once I figured out where everything was hidden!
NOTHING MISSING as far as all the desired formatting options and features.

Could also turn off or bypass Snap-To-Grid
Could turn off the grid

It was a delight to re-create this drawing in Cacoo – I love all draw functions, smoothness of flow and ease of use!

Export Options

PNG, SVG, PDF, PS (post-script), PPT or Print

This is the only online platform that I have seen being able to export to PowerPoint!