The first thing I do when starting an Azure architectural or concept drawing is to gather the most current Azure icons I'll need for the project. This is a list of resources of Azure Icon Sets and Visio stencils to download. If you're using an online draw program, you can search within these resources for any missing icons/symbols you need.
1. Microsoft Azure Cloud and AI Symbol / Icon Set – SVG:
This is a free download from Microsoft which includes icons (SVG format only) icons for almost all Azure services and Microsoft cloud related technologies
Microsoft no longer includes Visio stencils (since these are only in the subscription versions of Visio now) in the Azure Icon Set, so the Visio Stencils provided in resources #3-6 below are invaluable now!
2. Ben Coleman's Azure Icon Collection:
Ben Coleman provides a preview thumbnail gallery for all of these icon sets, with options to search, view on various light & dark backgrounds, download as SVG or PNG formats!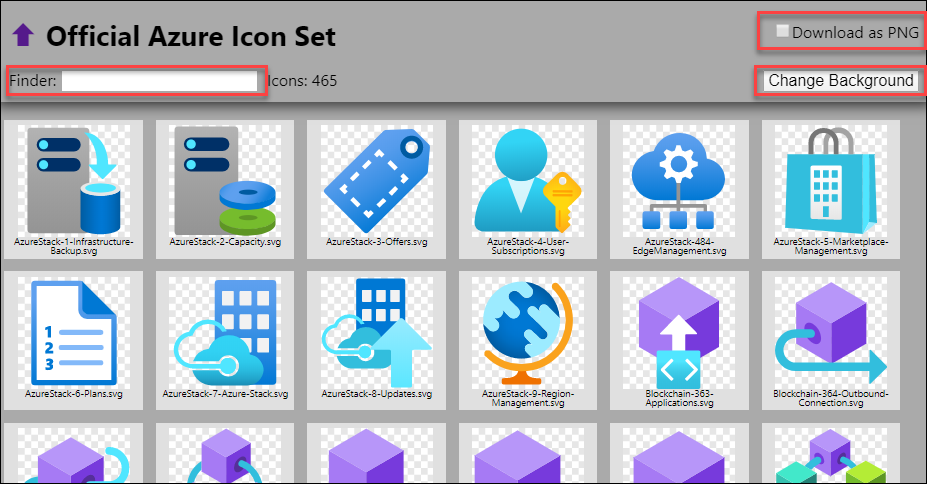 All options can all be downloaded in bulk – or selectively download sets of files
3. Cloudockit Visio Cloud Stencils (Scroll to bottom of the page and request stencil)
4. Sandro Pereira's Azure Stencils Pack 
5. David Summers' Azure Design Resources
7. Add An SVG Viewer extension to Windows File Explorer
8. Amazing Icon Downloader Chrome Extension (add link to previous blog post)