We use Cloudockit for generating Azure Subscription Account documentation for our enterprise clients. For Azure architectural drawings we have been using PowerPoint, for a number of reasons.
PowerPoint (PPT) was originally chosen as an easy, effective drawing platform alternative to Visio (Read more about that here) for creating Azure architectural diagrams or concepts for clients or training presentations. Drawing diagrams with PPT is very simple, with a flat learning curve!  Once a library of PPT is created, it is relatively easy to use any diagram as a template to be customized for the next client. Slides can easily be used as a separate drawing, or customized and added into a custom presentation, exported into Word or as a PDF. Collaboration is possible by saving a PPT slide or slide deck to a cloud location. However, there are some cons to using PowerPoint for drawing – a PowerPoint repository of commonly used Azure Icons must be built and maintained. Automatic versioning is not available. Connector styles are limited and its not possible to turn off the 'snap-to-grid' function making connecting easier in some cases.
There are a number of online drawing programs that will make drawing Azure architectural and concept diagrams even more efficient – and no software need be installed locally, although some of the programs do offer a desktop version for working off-line.
Read our reviews of the following online drawing programs to decide which would be our new alternative to using PowerPoint for our customizable Azure architecture and concetp diagram repository:
Each online drawing platform are reviewed by duplicating an Azure IaaS drawing by Tim Warner in each of the programs: Get Tim's drawing here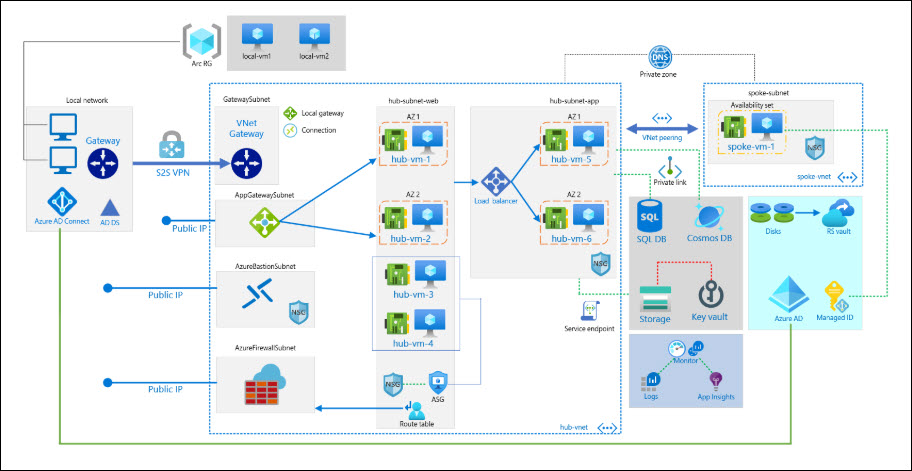 I'll be reviewing or reporting on a number of features while testing the online program:
Is it an easy-to-operate drawing platform?

I want to be able to easily layout Azure cloud infrastructure quickly, without any design skills required.

Is there an up-to-date Azure Icon library preloaded?
Can I import additional SVG icons?
Is it easy to import images – such as PNG or JPG?
Will it import Visio or other drawing platform formats?
Is there a place to save and reload commonly used icons – like a stencil in Visio, to be able to create my own custom library of icons?

Can I create, save and edit multiple custom icon libraries?

Is real-time collaboration possible?
Are the features I'll use, worth the price of a full-featured drawing platform?
What export formats are provided?

Is is easy to export diagram as an image, or PDF, or as available elements for customization – easy to use with Word documents or for presentations?

Does the draw platform provide auto alignment and spacing, pre-made templates, saving of a new template, ease of resizing & moving  icons, drag & drop, lasso select tool, zooming, adding guidelines, text, shapes with multiple custom properties, snap-to-grid toggle on and off, easy and varied connectors etc.
Provide multiple font options or able to add fonts?
Does it support multi-page drawing and custom sized drawings?
Is there an offline-version available that will resynch with online?
Are there flexible storage options and integration for saved diagrams – local, cloud, 3rd party?
What is the cloud storage size limit and cost?
Trial version(s) available?