Another post in our series on Creating Azure (hosted) WordPress Websites without knowing php or MySql!
Configuration Overview
This is the sequence of customizations we will use to configure a WordPress website hosted on Microsoft Azure, regardless of the website's final purpose:
Choose and upload a WordPress Theme which is the website's front-end design package
Create and install a Child Theme of the chosen Theme
Setup the website's backup/restore process on Azure so you can always go back a step if you've broken something causing the website to not load or lock you out. It's important to test and ensure the Restore process is successful BEFORE its necessary.
Setup Email sending via SMTP
Setup the website's Security
Customizations of some of the WordPress default features
Installing and configuring 'general' and then specific plugins for website's end use
Choosing a Theme
The choices of available WordPress themes are endless – from the default WordPress Twenty Seventeen to WordPress Twenty Fourteen themes by going to Appearance > Themes, to a search from 'Add New' within your WordPress site – to online searching for Premium Themes.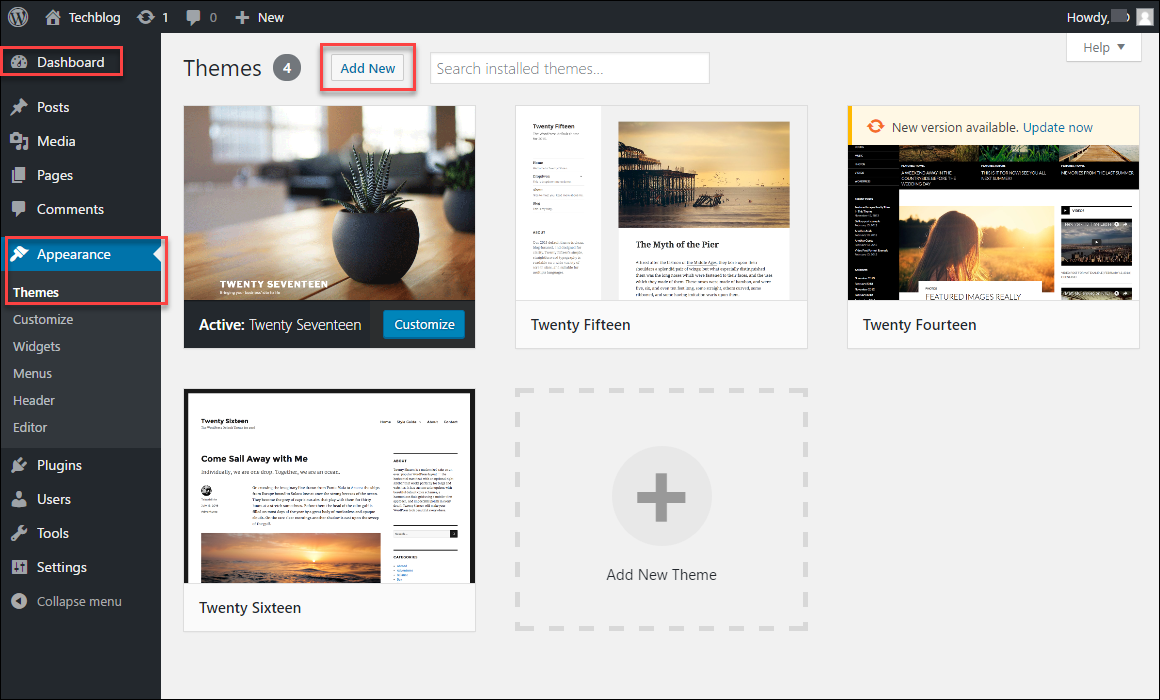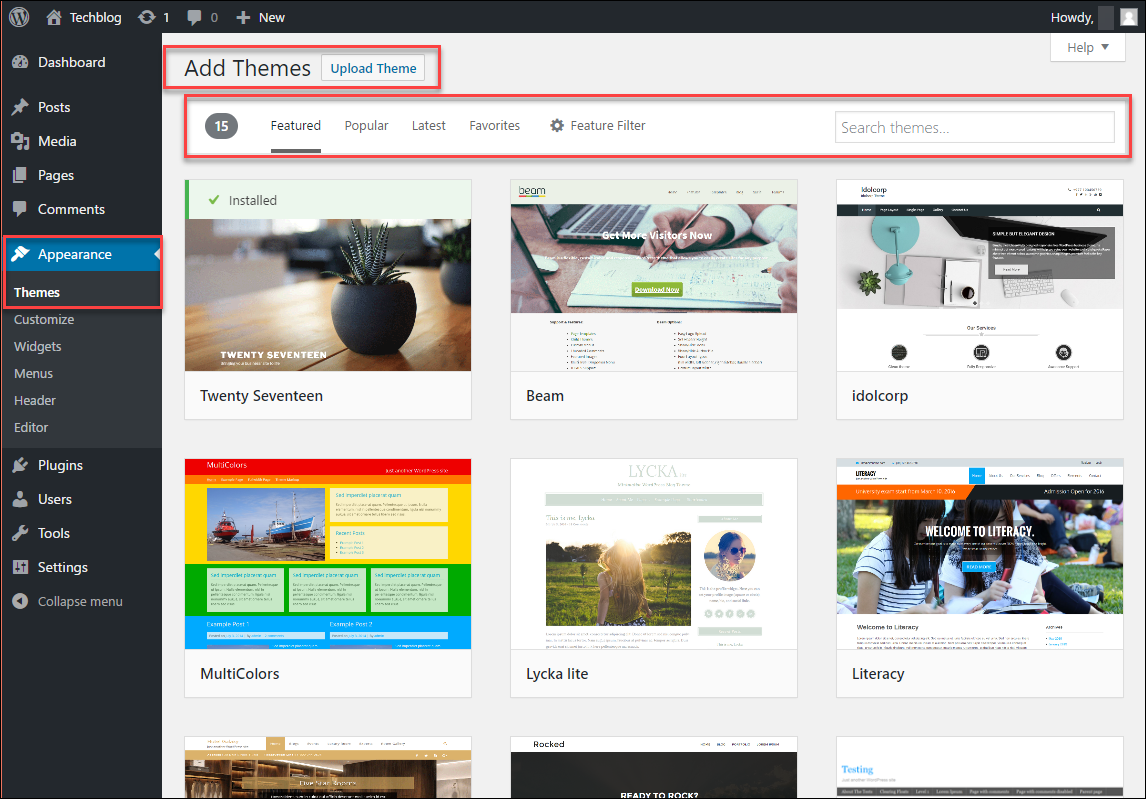 You should start by searching online for HOW to choose a WordPress theme for your website. Themes can be changed, so if you start with one theme and it doesn't meet your needs, in many cases, your underlying data is not touched.
We used the following criteria to choose our WordPress Theme:
Mobile Responsiveness
Cross Browser Compatibility
Excellent Documentation & Support
Strong Ratings and Reviews
Clean Layout
Ease of Customization
Security & Auto Upgrades
We use Elegant Theme's 'Divi' theme which is a popular premium theme providing us with additional features to grow into using, should we want to in the future. Plus, we bought the Lifetime package, with unlimited websites. Learning one theme package really well and using it repeatedly on different websites, improves our efficiency in producing websites.
1. Theme Installation
Since we are not using one of the free themes available from within WordPress, we need to upload the purchased Divi Theme file: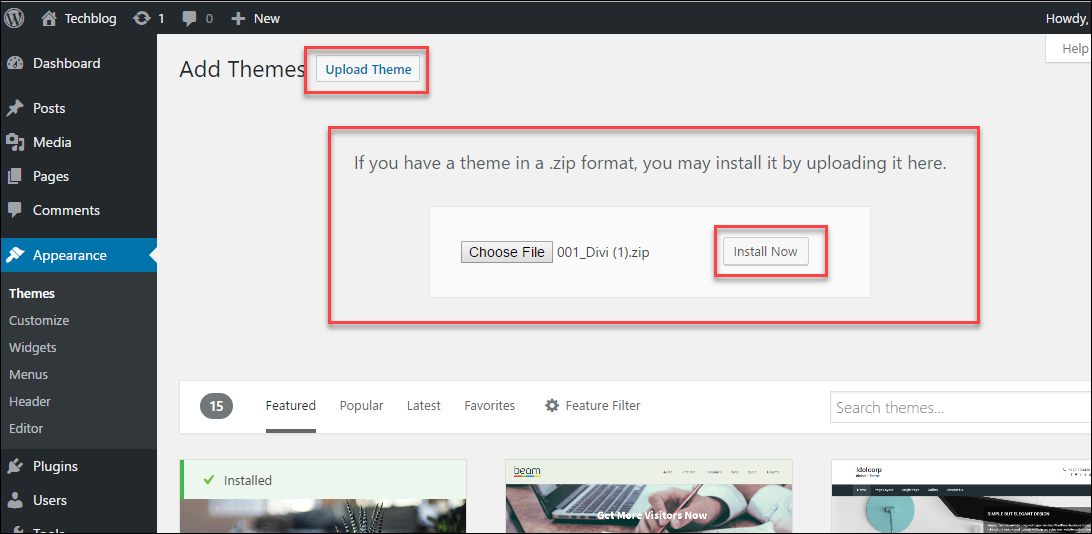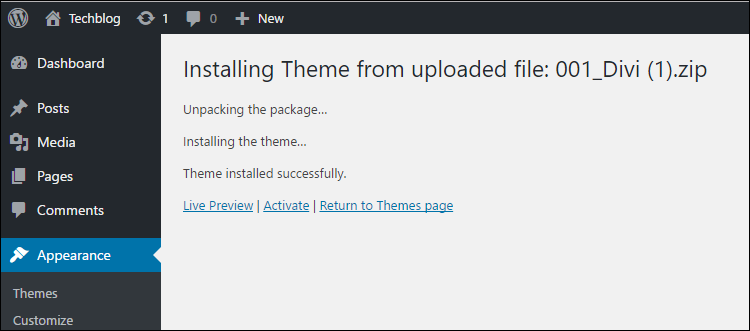 We could Activate the Divi Theme, but in this case we don't, because in the next blog post, we will create a Child Theme which will inherit its functionality from the parent (in this case Divi) Theme. From the WordPress Codex "A child theme is a theme that inherits the functionality and styling of another theme, called the parent theme. Child themes are the recommended way of modifying an existing theme".
Read the other posts in our series on Creating Azure (hosted) WordPress Websites without knowing php or MySql!